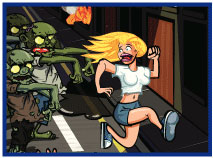 By Mori Laxe - Big I Advantage
®
Undertaker
.
We all know the Zombie Apocalypse is coming; it's not a matter of if, but when. Rampaging hordes of the undead roaming the streets, smashing down doors and windows to get at the living. Are you ready? Are your insureds? Most people believe their Homeowners insurance will cover the damage, but most carriers specifically exclude zombie attacks. But wait you say, wouldn't a Zombie Apocalypse be considered
force majeure
? No, because it is a predictable risk. Whether a spoiled cheeseburger, mutated virus or, genetic experiment gone wrong, even the Centers for Disease Control and Prevention (CDC) can
see this one coming
.
Have no fear. Once again Big "I" Markets comes through with desperately needed coverage. Zombie Apocalypse Insurance from Voodoo Mutual Assurance Co. is more than just a promise to rebuild. Our underwriters have watched every zombie movie ever made (several times) and are ready to quote lines from any one of them on command. They are intimately aware of the kind of devastation even a small band of zombies can do.
Coverages include:
Replacement Cost coverage for house and contents.

Temporary zombie-resistant housing and basic rations during the crisis. Upgraded rations options available.

Mobile Incineration units for dead zombie disposal on your property and up to 100 yards beyond the property line.

No-cost access to any vaccine made available.

Transportation to an island sanctuary if civil control cannot be regained.

Immediate family holding facility (in case a cure is developed) for named insureds infected or already turned into zombies provided they can be captured safely. Six months standard. Up to 5 years optional coverage available.
What happens to your insured if YOU get turned into a zombie? We have that covered. We have a dedicated Zombie Response Team as well as rotated support staff secured 24/7 in zombie-proof bunkers. These are located in key areas of the country so you'll be able to reassure your clients of rapid service once the hordes have been dealt with even if you're one of them!

Additionally we offer lower rates for clients who lower their risk:
Zombie-resistant or zombie-proof security bunkers

Spike pits

Welded steel or concrete barricades (Wooden ones are inadequate, they always tear those down in minutes)

Moats (flammable or non-flammable)

Zombie-fighting training course completed - instructor must be certified
But, what good is it for your clients to be well-armed and heavily fortified if all their neighbors turn to zombies? The less prepared the citizens of your state are the larger the hordes will be. What good is a spike pit if it fills up completely? Using the latest scientific data rates are adjusted based on the preparedness of your state to deal with the zombie threat.

Don't delay! It could happen at any time and the more of your clients that survive, the better.

Ok, you got me. APRIL FOOLS! See what most people will be doing should an actual Zombie Apocalypse occur. If you want Zombie Apocalypse "insurance" you could look here or here***.

Please check out our other April Fool's Day issue.

Special thanks to Big "I" Advantage® team member Michael Welch for this parody!

Enough of the fun stuff, let's get back to work.



***NON-APRIL FOOLS NOTICE TO AGENTS: DO NOT FORWARD this email to your clients as the site and link does apparently accept payment for this and state regulators may deem the product in link is actual insurance and as licensed agents to members of potentially less insurance savvy public we do not recommend it.
We hope you enjoyed our prank above, but when it comes to our affluent program, our superb coverage options are no joke. Today we're highlighting ACE Platinum Portfolio, one of our four affluent choices on BIM.

Coverage Features/Benefits:

Coverage is available for home, umbrella and valuables (these lines required for new business, auto may be required as part of the package depending on the risk). Including auto when possible is most beneficial for the customer to qualify the max. multi policy credits. All policies are direct bill to the insured. The minimum deductible is $1000, risks with prior losses will be considered based upon the merits of the account. Included in Portfolio:
Full replacement cost coverage for dwellings, as well as A&A for condos & co-ops

Replacement Cost on Contents

Extended Replacement Cost on Home

Total Loss Settlement Option

Medical expense amount of $50,000 included

Back up of Water/Sewer to coverage A limit

Credit Card/Bank Coverage up to $100,000

Deductible reserve included with $2,500 ded. or higher.

Unlimited Ordinance and Law Coverage

Primary flood end. Available in most states for pref. flood zones

Ability to tailor the coverage amount for other structures and contents

Identity Fraud Included $100,000
Coverage Availability

The ACE Platinum Portfolio Program is available to registered members in all states, but minimum premiums may apply depending on the state of risk.
________________________________________
Fireman's Fund Presentation on Personal Liability Trends
The Personal Liability Trends presentation is designed to help our agency partners understand the top 5 legal liability entanglements we see today. We will provide relevant examples of every day events which could create or have created claims for us. We will also make suggestions on how to identify if the client has this type of exposure as well as how to insure against it.

Date: Wednesday, April 2nd
Time: 3:00-4:00 EDT

Click here to Register
+++++
Remember that you can view the following webinars 24/7 by checking out the BIM Webinar Library. To do that log onto Big "I" Markets and click on "Publications".
Focus on Prestige
Travelers Select Products (series)
Travel Insurance
Community Banks
XS Flood
Real Estate E&O
RLI Personal Umbrella
Affluent Homeowner
"Oh, by the way...Flood Sale"
Habitational
Non-standard Homeowner
Student Housing
+++++
"OH BY THE WAY...FLOOD SALE" WEBINAR
Interested in learning flood marketing techniques? Participate in the "Oh, By the Way...Flood Sale" webinar presented by Big "I" Flood Specialist, Jeff St. John. Topics in the fast-paced 1 hour presentation include: Reasons to Sell Flood Insurance • Reasons Consumers Should Buy • Limited Product Knowledge • Misconceptions by Agents & Consumers • Talking Points & Myth Busters • The Flood Risk • Flood Resources – Facts & Statistics.
BIM WEBSITE TRAINING WEBINAR
For all you folks who recently registered for Big "I" Markets, remember you can participate in a webinar from the comfort of your office to help you learn how to navigate around the system. Every Thursday at 2:00 p.m. EST we'll show you how to navigate the Big "I" Markets platform, including how to submit a quote! Register for the webinar by sending an email with your name and company name to
bigimarkets@iiaba.net
. Include "Website Navigation Webinar" in the subject line or body of your email. A recording of this webinar can be found under "Publications" after logging into Big "I" Markets.

There will be no Training Webinar on Thursday, April 3rd.
________________________________________
Be one of the first five with the correct answers and win an envy-inspiring
TFT
Trivia T-shirt
.
Congratulations to this week's winners!
Sheila Johnson (VA), Pam Strawderman (IA), Linda Davidson (WA), Katrina Willard (FL), & Cindy Perez (TX)
1. Which company developed the game Pac-Man?

- NAMCO
2. Pac-Man was first released in which country?

- JAPAN
3. What is the maximum possible score in Pac-Man?

- 3,333,360 POINTS
Who is the underwriter for Travelers Select products on Big "I" Markets? (Hint: click on any of the products in Big "I" Markets and check the "Underwriting and Coverage" page.

- TOM SPIRES
________________________________________
Here are the top three items that got BIM agents clicking from our last edition... see what you missed!
________________________________________