The Big "I" Virtual University Webinar Series Presents:
Monitoring Insurer Stability and Solvency
November 18, 2014
2:00 p.m. - 4:00 p.m. ET
Click here for full description and registration details.

What is the difference between an insurer's A.M. Best rating and stability from an agent's perspective? What rating even applies when there is more than one? What difference does a rating or lack of a rating matter? At times, the difference may honestly be tiny in the real world. But insurance is not designed for the good times. Insurance by its nature is designed for bad times and to make policyholders whole, with limitations, when they suffer a disaster.

In this webinar, the Big I's Bill Wilson and agency management consultant Chris Burand will discuss issues involving the stability and solvency of insurance carriers. Bill will focus on a simple checklist he created years ago to enable agencies to monitor insurer financial and market issues, while Chris will demonstrate a remarkable spreadsheet approach the he uses with amazing results. Don't wait until you and your customers suffer the potentially catastrophic impact of an insurer insolvency…mark your calendar today to attend this informative webinar.


+++++

Remember that you can view the following webinars 24/7 by checking out the BIM Webinar Library. To do that log onto Big "I" Markets and click on "Publications".
Personal Liability Trends - Fireman's Fund
TravPay
Commercial Lessor's Risk
Affluent Homeowners
Travelers Select Products (series)
Travel Insurance
Community Banks
XS Flood
Real Estate E&O
RLI Personal Umbrella
Affluent Homeowner
"Oh, by the way...Flood Sale"
Habitational
Non-standard Homeowner
Student Housing
+++++
"OH BY THE WAY...FLOOD SALE" WEBINAR
Interested in learning flood marketing techniques? Participate in the "Oh, By the Way...Flood Sale" webinar presented by Big "I" Flood Program Manager, Jeff St. John. Topics in the fast-paced 1 hour presentation include: Reasons to Sell Flood Insurance • Reasons Consumers Should Buy • Limited Product Knowledge • Misconceptions by Agents & Consumers • Talking Points & Myth Busters • The Flood Risk • Flood Resources – Facts & Statistics.
The webinar for Wednesday, December 3rd has been cancelled.

BIM WEBSITE TRAINING WEBINAR
P&C Insurers Use of Reinsurance Up
Reinsurance is the insurance that insurance companies purchase for their own protection to spread their risk. At the most basic view, an insurer's use of reinsurance shows up as the difference between its Direct Premium Written (DPW) and Net Premium Written (NPW). Below is a chart of the Total All Lines premiums of domestic property & casualty insurers as tabulated by A.M. Best in their "Cumulative By Line Underwriting Experience" compilations. Can anyone guess which line of business has the greatest percentage use of Reinsurance? If you can, email me at Paul.Buse@iiaba.net and we will send you a Two for Tuesday t-shirt.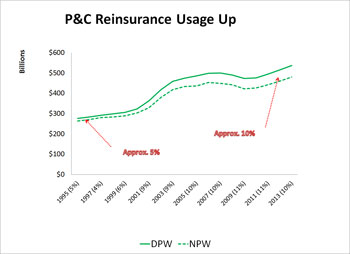 Click Graph for larger version
Source: A.M. Best Aggregates & Averages

Why does it matter? Recent comments by Bill Berkley, chairman of W.R. Berkley Corp. and parent of widely used insurers by members fo the Big "I" gave me pause to consider the overall reliance of USA P&C insurers on Reinsurance. Mr. Berkley may have a point as you can see that the total and percentage of premiums sent to reinsurers is up over the past 20 years. Moreover, we know that the reinsurance placed by domestic insurers for other domestic insurers has remained relatively stable at about $14 billion annually. If Mr. Berkley's questions over the "Moral Commitment" of alternative capital of the global reinsurance market are on target, the industry is more exposed today than it was in 1995 we know that much.
________________________________________
Here are the top three items that got BIM agents clicking from our last edition... see what you missed!
________________________________________
Big "I" Markets Sale of the Week
Congrats to our agent in Colorado on an
International Advantage
sale of $
10,350
in premium!
Tuesday, October 28, 2014
---
Follow Us:







TFT is authored by Michael Welch
Big "I" Markets Service Coordinator