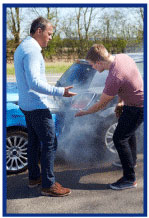 By: Big "I" Umbrella Program Manager, April Shrewsbury.

Think way back to January 2013, when Two for Tuesday included a simple article on Uninsured/Underinsured Motorist Coverage. Little did we know that it would become one of the most popular TFT articles in 10 years, appearing on the "most clicked" list every week for over 3 months straight. It was a strong indicator that many agents today don't feel comfortable with their understanding of UM/UIM coverage. They may forget to offer or explain UM/UIM to their customers, not only neglecting to provide the best possible service to those who trust them, but also risking a "failure to offer" E&O claim. It's important that both agents and insureds understand the importance of UM/UIM coverage (even if the customer rejects it), so we're running this helpful article again. Without further ado…

We've all heard the stories. A family of five is burdened with horrific medical bills because of an accident caused by a drunk driver who couldn't afford insurance due to his bad driving record. A child walking to school faces a lifetime of difficulty after being struck by a texting driver-a struggling college student with state minimum auto limits. A pair of retired sweethearts fall victim to a hit-and-run driver.

As an insurance agent, you can't physically protect your clients from heartbreaking situations like these…but they do rely on you to protect them financially when tragedy strikes. This is where excess Uninsured/Underinsured Motorist Coverage enters the picture.

MOST PEOPLE WOULD BUY IT IF THEY UNDERSTOOD IT
How effectively can you explain UM/UIM coverage to a client who doesn't know much about insurance? In layman's terms, UM/UIM coverage is insurance that pays for the client's injuries from an accident caused by the owner or operator of an uninsured or underinsured vehicle. Excess UM/UIM from a personal umbrella policy pays after the auto policy's UM/UIM limits have been exhausted.

It's important for a client to understand that UM/UIM coverage comes into play when an insured is involved in an accident and the person who caused it either doesn't have any insurance or doesn't have enough insurance to pay for your client's injuries. It would also come into play if they were the victim of a hit-and-run (in a vehicle, on a bike, or as a pedestrian), leaving them with nobody's insurance policy to collect against...making it an "uninsured" motorist claim.

THE PREVALENCE OF UNINSURED AND UNDERINSURED DRIVERS
According to recent estimates by the Insurance Research Council (IRC), roughly one in seven drivers is uninsured. Add to that the number of drivers who carry state minimum auto limits, and it's enough to make a person want to stay home for good.

Unfortunately, this should come as no surprise, given the type of TV commercials we see these days from some auto insurance companies. Too often, the emphasis is on getting a cheap rate, and drivers are besieged with ads about that encourage them to buy "state minimum" auto limits in order to save money. There's no denying that it can be a temptation in a struggling economy. All the more reason to make sure your clients are protected from the drivers around them, with UM/UIM coverage on both their auto and personal umbrella policies.

Click here to read the full article.

Visit www.iiaba.net/Umbrella to learn more, or log into www.bigimarkets.com.
_______________________________________
Ethical and Legal Obligations
"Legal and Ethical Obligations for Insurance Professionals…Or 24 Ways to Get Into So Much Trouble Even Agent Jack Bauer Can't Save You"
February 11, 2015; 1:00 to 4:00 p.m. Eastern Time
$79 - Click here to register.

This webinar discusses the many ethical and legal obligations that insurance professionals have as a matter of statute, regulation, or case law (tort and breach of contract). Included are the types of legal and ethical obligations faced by agents and other insurance professionals, with a focus on how to make daily decisions within a legal and ethical framework. 24 specific areas of agency operation are examined, along with any legal and ethical components within those areas. VU webinar questions can be sent to bestpractices@iiaba.net.
Remember that you can view the following webinars 24/7 by checking out the BIM Webinar Library. To do that log onto Big "I" Markets and click on "Publications".
Personal Liability Trends - Fireman's Fund
TravPay
Commercial Lessor's Risk
Affluent Homeowners
Travelers Select Products (series)
Travel Insurance
Community Banks
XS Flood
Real Estate E&O
RLI Personal Umbrella
Affluent Homeowner
"Oh, by the way...Flood Sale"
Habitational
Non-standard Homeowner
Student Housing
+++++
"OH BY THE WAY...FLOOD SALE" WEBINAR
Interested in learning flood marketing techniques? Participate in the "Oh, By the Way...Flood Sale" webinar presented by Big "I" Flood Program Manager, Jeff St. John. Topics in the fast-paced 1 hour presentation include: Reasons to Sell Flood Insurance • Reasons Consumers Should Buy • Limited Product Knowledge • Misconceptions by Agents & Consumers • Talking Points & Myth Busters • The Flood Risk • Flood Resources – Facts & Statistics.
BIM WEBSITE TRAINING WEBINAR
For all you folks who recently registered for Big "I" Markets, remember you can participate in a webinar from the comfort of your office to help you learn how to navigate around the system. Every Thursday at 2:00 p.m. EST we'll show you how to navigate the Big "I" Markets platform, including how to submit a quote! Register for the webinar by sending an email with your name and company name to bigimarkets@iiaba.net. Include "Website Navigation Webinar" in the subject line or body of your email. A recording of this webinar can be found under "Publications" after logging into Big "I" Markets.
________________________________________
Here are the top three items that got BIM agents clicking from our last edition... see what you missed!
________________________________________
Big "I" Markets Sale of the Week

Tuesday, January 13, 2015

---
Follow Us:







TFT is authored by Michael Welch
Big "I" Markets Service Coordinator