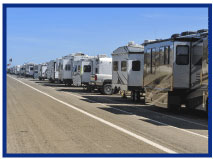 In 1910 Pierce-Arrow created what is considered the first Recreational Vehicle, the Touring Landau. It could be outfitted with multiple storage compartments, a water tank, sink with running water, toilet and even a phone to communicate with the chauffer. Other custom features were an icebox, and even hot water. If you're anywhere near Afton, Oklahoma you can pick up this restored 1917 Packard Twin Six Motorhome for a mere $99,995. The early RVs didn't have a lot of features one associates with modern versions. Modern RVs and bus-conversions can be custom fitted with practically anything, including a movie theater. Last July a gold plated eleMMent Palazzo sold for a reported $3 million. This double deck monstrosity is actually driven from the second level, has a Master bedroom (including ensuite), pop-up terrace, top speed of 93 mph, and can even clean itself! Some custom jobs can be quite creative such as this bicycle driven RV.

Most RVs fall somewhere between those extremes and that is where National Interstate is best. National Interstate provides coverage for motor homes, professional bus conversions, medium duty tow vehicles and converted medium duty tow vehicles with a value up to $2 million; and travel trailers and 5th wheels with a value of up to $200,000. For more information on availability and covered recreation vehicle types, including eligibility requirements for all categories, please see the Recreation Vehicle Categories Supplement in the Product Resources Section at Big "I" Markets.

Some types of commercial usage of recreational vehicles are acceptable, with the exception of those rented or leased to others. If an insured uses their recreational vehicle for commercial purposes, they must purchase additional coverage to avoid the commercial usage exclusions in the standard policy. All commercial risks must be approved by National Interstate.

The gold-plated RV is outside their scope (do you blame them) and NI consider RVs over 19 years old only on a case by case basis. The Touring Landau and the Packard Twin Six would be considered under our Collector Car program. We're not even going to try on the bike-camper.
_______________________________________
Multifamily Insurance - Instant access

Get a $20 Amazon gift card just for giving them a try! (Click to register for all details)

Date:Thu, April 2, 2015
Time:01:30 PM EDT
Duration:1 hour
Hosts: Rick Cote, Alternative Distribution Manager, Kathy Stevens, Commercial Underwriting

In this informative webinar, you'll discover:
The many classes of commercial habitational we provide solutions for

How tax credit loss insurance can make affordable housing clients only want you

How to save your client $1,000's, while getting a discount off their premiums

The secret to tenant retention after a loss: This powerful tool blocks the competition

Interior damage from wind driven rain coverage

How to submit business easily

On the spot risk review appointments - have your questions ready and gain immediate access with no volume committment!
There is NEVER the need for premium financing (direct bill, flexible options)

REGISTER HERE!
The ISO CGL Property Damage Exclusions

May 6, 2015; 1:00 to 4:00 p.m. Eastern Time
$79 - Click here to register

The purpose of this webinar is to provide information about a very important element of coverage critical to building service providers, contractors, insurance agents, claims adjusters and subrogation units.

At the conclusion, participants should be able to: understand the primary purposes of CGL PD coverage and exclusions; understand the grant of coverage found in the language of these exclusions; understand the distinctions between ongoing vs. completed operations within the context of the exclusionary language; understand the historical significance and current application of "broad form property damage" and better serve insurance purchasers, particularly in the service and construction industries. VU webinar questions can be sent to bestpractices@iiaba.net.
Remember that you can view the following webinars 24/7 by checking out the BIM Webinar Library. To do that log onto Big "I" Markets and click on "Publications".
Personal Liability Trends - Fireman's Fund
TravPay
Commercial Lessor's Risk
Affluent Homeowners
Travelers Select Products (series)
Travel Insurance
Community Banks
XS Flood
Real Estate E&O
RLI Personal Umbrella
Affluent Homeowner
"Oh, by the way...Flood Sale"
Habitational
Non-standard Homeowner
Student Housing
+++++
BIM WEBSITE TRAINING WEBINAR
1. Half of all RVs are manufactured in what single US county?
2. What is the oldest commission naval vessel afloat?
3. What was the first Federal law to be signed electronically?
________________________________________
Here are the top three items that got BIM agents clicking from our last edition... see what you missed!
________________________________________
Big "I" Markets Sale of the Week
Congrats to our agent in Alaska on a
commercial lessors risk
sale of $
24,057
in premium!
---
Follow Us:







TFT is authored by Michael Welch
Big "I" Markets Service Coordinator