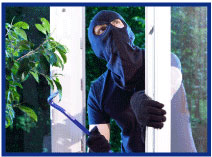 Other things besides wind driven rain can come in when windows are left open that can be also be expensive to remedy. Thirty percent of burglars gain entry through an open or unlocked window or door. One third simply kick in the front door. Overall the number of burglaries has dropped over the past 20 years but the median loss has increased by more than 50% with an average loss of over $2,000.

The one thing that deters burglars the most is an alarm system. Most will simply bypass a house with an alarm and nearly all will leave immediately if an alarm sounds. That's what happened when thieves broke into the home of professional poker player Dan Bilzerian. Despite having obviously planned the break-in carefully, they couldn't get around his high-tech alarm system, failed to open a reinforced steel gun safe, and left mostly empty-handed.

The Stand-alone Valuable Articles & Fine Arts on Big "I" Markets usually requires some kind of theft deterrence (Central Station Alarm, gated community, Security Patrol, etc.) for any TIV over $50,000.

Coverage can be designed to meet the client's needs with different policies available offering the following features:
Agreed Value, Current Market Value or a combination of both with All-Risk, Worldwide Coverage (including breakage and mysterious disappearance).

No per item limitations Coverage available for personal collections while on loan to museum exhibitions. No limitation on packers

Consistent approach to loss in value

Comprehensive forms to thoroughly address critical policy features rather than treat them as an afterthought to homeowners insurance.

Blanket or scheduled items coverage

No per item limit on blanket coverage

Actual value or Current Market Value up to 150%

$75 million capacity

Consideration for any type of collectible including wine, musical instruments, antiques, stamp and/or coin collections, sports memorabilia and collectible figurines

Special wine coverage including mechanical breakdown and restoring/replacing damaged labels

Optional deductibles available

Coverage for breakage and mysterious disappearance

Minimum Premium is $1,500 in all states

Worldwide coverage

Admitted carrier
Coverage is not offered for the following items: Hearing Aids, Handbags, Professionally used Musical Instruments/Equipment, Electronic Equipment (including but not limited to: Video Game systems, Computers, iPods, Professionally used Cameras). Bicycles are covered under the Bicycle Program.

The Stand-Alone Fine Arts and Valuable Articles program is available to members in all states except AK and HI. Learn more by looking into the window of Big "I" Markets.
_______________________________________
CGL Contractual Liability Issues in the Construction Industry
October 21, 2015
1:00 to 4:00 p.m. Eastern Time
$79 - Click here to register

Participants will review the basic underpinnings of contractual liability - the difference between breach of contract and liability assumed by contract as well as assuming the liability of others in a contract. Emphasis will be on hold harmless and indemnity agreements often used in the construction industry, including the meaning of hold harmless and indemnity agreements, the parties to the agreement and the notion of performance of an obligation to hold harmless and indemnify another. With illustrations of each type of indemnity clause, the participants will explore the differences among the broad form, intermediate form and limited form indemnity clauses, including how such clauses affect third parties not a party to the indemnity. By way of certain examples, a review of limitations on indemnity agreements, including select state statute and case law, as well as a review of some statutes' "insurance exceptions" and how they may apply.

The course will examine in detail the contractual liability exclusion in the CGL policy, including whether the exclusion applies only to indemnity agreements or to other types of liability assumed by contract. A detailed review of the exceptions to the contractual liability exclusion, with emphasis on "insured contracts" will be undertaken. Also discussed will be the CGL policy's provision for defense of an indemnitee and what types of indemnity agreements are not "insured contracts." The course will conclude with a review of the fundamental differences between indemnification and additional insured, including the rights of each, and the issues created with tying additional insured coverage to an indemnity provision. VU webinar questions can be sent to bestpractices@iiaba.net.
+++++
Remember that you can view the following webinars 24/7 by checking out the BIM Webinar Library. To do that log onto Big "I" Markets and click on "Publications".
Personal Liability Trends - Fireman's Fund
TravPay
Commercial Lessor's Risk
Affluent Homeowners
Travelers Select Products (series)
Travel Insurance
Community Banks
XS Flood
Real Estate E&O
RLI Personal Umbrella
Affluent Homeowner
"Oh, by the way...Flood Sale"
Habitational
Non-standard Homeowner
Student Housing
+++++
BIM WEBSITE TRAINING WEBINAR
For all you folks who recently registered for Big "I" Markets, remember you can participate in a webinar from the comfort of your office to help you learn how to navigate around the system. Every Thursday at 2:00 p.m. EDT we'll show you how to navigate the Big "I" Markets platform, including how to submit a quote! A recording of this webinar can be found under "Publications" after logging into Big "I" Markets.
________________________________________
CoverHound Valued at $100 Million:
What Might Sherlock Holmes Deduce?
By Paul Buse, President of Big I Advantage®

Sherlock Holmes: "Dr. Watson, IA magazine called while you were making tea and asked if we could determine how much a book of premiums would be worth if the valuation were similar to that placed on CoverHound by its venture capital partners when they invested $33 million recently."

John Watson: "Mr. Holmes, naturally that would be a ratio of Coverhound's value to its premiums -- or revenues as a more usual standard in the industry -- but how could one possibly know that with such scant information?"

Holmes: "Elementary, my dear Watson, I already told them. The value of a $1,000,000 agency would be $600,000."

Watson: "Astonishingly high."

Holmes: "Indeed it is high but it's just mathematics and abductive reasoning…armed with a few assumptions, of course. You see, assuming a 90% retention rate tells me Coverhound has about 68,000 policies in force. If I then assume an average premium of $2,500 per policy, 13.5% commission and I apply the IIABA Best Practices high performance standard of a 25% return on revenues, all I needed to arrive at the answer is a growth rate and the objective return of the venture capitalist. For those I chose 10% for growth and 15% for cost of capital. From there it is just basic mathematics applied from my good fellow Myron Gordon of the University Toronto and his "Gordon Growth Model" for establishing the intrinsic value of an investment. He graduated from the University of Wisconsin and then Harvard, as I'm sure you are aware. Please invoice the Big 'I' for our services…"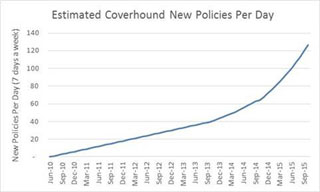 Click for larger version



Source: Estimated from statement in Techcrunch where CEO Keith Moore tells TechCrunch "[the process] values the company at around $103 million, after the company hit a milestone of 50,000 policies sold in the last two years, growing 170% in the last 12 months."
________________________________________
Here are the top three items that got BIM agents clicking from our last edition... see what you missed!
________________________________________
Big "I" Markets Sale of the Week
Congrats to our agent in New Hampshire on a
travel insurance
sale of
$2,158
in premium!
________________________________________

Tuesday, September 29, 2015

---
TECHNICAL CORNER
Tips for accessing & using
Big "I" Markets
---
Having trouble viewing your commission statements or did you get a commission check and you're not sure what it's covering?

Accessing Commission Sheets
:
---
Follow Us:







TFT is authored by Michael Welch
Big "I" Markets Marketing Assistant