Single day, short term, and annual policies available. Vendors can secure coverage. Parades, overnight events w/camping, and more. No limit on event size.
Having access to top carriers that specialize in serving affluent clients sets you apart from the competition. Big "I" Markets connects you to two of the best in the business for high-value clients.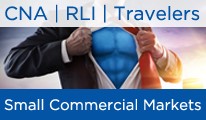 Three carriers, one submission. Broader options put choice and quality at your fingertips.