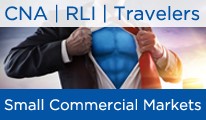 Three carriers, one submission.
Broader options put choice and quality at your fingertips.
Eagle Agency offers Big "I" member agents choice. There are two ways to write business through Eagle Agency: Eagle Agent and Eagle Express.
In the event of employment litigation, Travelers Wrap+ EPLI insurance provides critical coverage, protecting your company from the potentially catastrophic costs of mounting a defense.