| | |
| --- | --- |
| In This Issue: | |
---
In the event of employment litigation, Travelers Wrap+ EPLI insurance provides critical coverage, protecting your company from the potentially catastrophic costs of mounting a defense.

Dependable Travel Coverage and 24/7 Assistance, Trip/Flight Cancellation, Medical and Emergency Evacuation, Baggage Delay & Loss, and More...

Three carriers, one submission. Broader options put choice and quality at your fingertips.
1000's of Satisfied Customers.
Just ONE Company!
---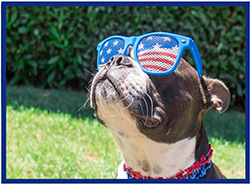 Summer. It brings to mind pleasing images of bright sunshine, beaches, pools, backyard cookouts, watermelon, vacation travel, ice cream, high temperatures and refreshing lemonade, among others. The hazards of summer include heat stroke, drowning, sunburn, bug bites, and food poisoning as food spoils faster in the heat. Protecting yourself from these and other hazards takes a few precautions.

Protecting your home is a little more complicated but not overwhelming. AIG has prepared a short list of steps towards protecting your home during summer months and beyond. Feel free to share these helpful tips with your clients

Water safety
If you have a pool, restrict access to the area with a gate or doors that automatically lock. Have your gate locks checked annually to ensure they are working properly.

For added safety, especially if there are young children at home, equip the door/gate with an alarm or sensors at the pool.

Consider a rolling pool cover, which can provide even more protection than a gate or fence.

If you are entertaining at your pool or on a lake, consider hiring a lifeguard to ensure someone is always watching those in the water.

Elaborate pool areas with rock formations and slides can enhance the risk for injury. Be sure areas are properly secured or restricted when needed.
Traveling
Don't post on social media that you are leaving town, and wait to post photos until after you return.

If you will be gone for an extended period of time, ask a private staff member, friend or neighbor to keep an eye on your home and have your mail held at the local post office.

Put lights on timers to give the impression that someone is home.
Fire prevention
If your grill or outdoor kitchen is near your home or on a deck/porch attached to your home, it should be equipped with an automatic shutoff device. These devices have a timer installed in the gas supply line that automatically shuts off the gas supply after a predetermined length of time.

Never use chimineas or fire pits on decks, gazebos, covered patios or anywhere there are overhangs. They should be located at least 15 feet away from any structure.
General home maintenance
When cleaning gutters and roofs, remove debris and check for winter damage that should be repaired.

Make sure trees on your property are healthy to avoid toppling onto your home during high winds.

If you live in a wildfire-prone area, remove all dead materials from trees/bushes/landscaping to eliminate fuels in the wildfire, and keep grass areas short.
AIG's Private Client Program is available to registered Big "I" Markets agents in all states. Breeze on over to Big "I" Markets and click on Affluent Program - New Business to learn more!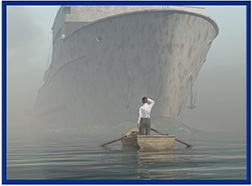 As a Big "I" Markets agent, you're taking advantage of a key membership benefit, market access. If you're like approximately 2/3 of our membership, you also secure professional liability insurance for your agency through Big "I" Professional Liability. (If you're not already part of our program, we can certainly help you with that, too!) But there's another membership perk you might be missing out on: Big "I" Employee Benefits.

As a Big "I" member, you have access to Group Life, Group Short-Term and Long-Term Disability, Group Dental and Group Vision benefits for your agency. The Big "I" Employee Benefits are underwritten by The Guardian Life Insurance Company of America and administered by a dedicated service team just for Big "I" Members. The program offers various coverage options to meet the diverse needs of our members and also provides guaranteed issue with certain requirements being met.

Contact Christine Muñoz at IIABA at (800) 848-4401 or christine.munoz@iiaba.net to learn more about any of these options, learn more online, or click here to obtain the census form and receive a quote.
---
Uncovering the Two for Tuesday Archive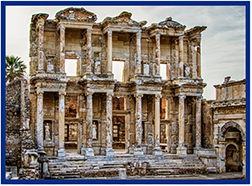 There were over two dozen major libraries in the city of Rome during the imperial period, but the capital wasn't the only place that housed dazzling collections of literature. Sometime around 120 A.D., Gaius Julius Aquila, the son of the Roman consul Tiberius Julius Celsus Polemaeanus, completed a memorial library to his father in the city of Ephesus (modern day Turkey). The building's ornate façade still stands today and features a marble stairway and columns as well as four statues representing Wisdom, Virtue, Intelligence and Knowledge. Its interior, meanwhile, consisted of a rectangular chamber and a series of small niches containing bookcases. The library may have held some 12,000 scrolls, but it most striking feature was no doubt Celsus himself, who was buried inside in an ornamental sarcophagus.

Since our own little library of past Two for Tuesday articles is electronic, you won't need a plane ticket to visit it—it's all housed online. The yearly Two for Tuesday Archive is is organized by subject. Compare it to the archive listings under BIM or the Archive link at the bottom of every Two for Tuesday. Those are organized by publication date.

Please keep in mind that the products and eligibility may have been revised or discontinued since the original article was written. Review the "Information" page for each product on Big "I" Markets for current content and instructions.