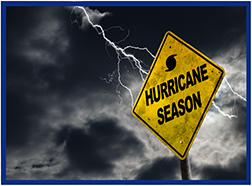 The 2018 hurricane season began June 1 in the Atlantic and runs through November 30. These windstorms can significantly affect you and your customers. Help keep your customers prepared during this hurricane season.

Please check out and share Selective's hurricane prep guide with your clients. This social media package includes content to share with your clients, including advice on what to do before, during and after a hurricane.

Big "I" Flood and Selective deliver members an unparalleled flood program. Together, we offer agents several layers of support to meet any and all flood insurance needs.

The Big "I" and Selective staff of experts can help with all of your flood needs and questions. With personalized support, competitive commissions, and an easy-to-use quoting platform, it is an easy decision to start writing your flood business through the Big "I" Flood-Selective partnership today. Learn more at iiaba.net/Flood or click here to find your Selective Flood Territory Manager.