---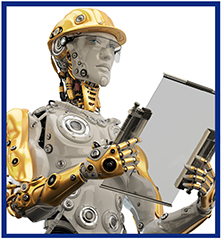 On an episode of The Jetsons a large flying machine plopped down on a spot of land and in a matter of a few seconds built a skyscraper. Mr. Spacely watched the construction and commented that it wasn't like the old days when "it took them a week to put up a building." Construction technology hasn't yet advanced to a robot building a skyscraper in 10 seconds, but the first steps have been taken. 3-D printers make custom fit materials on site, saving time while reducing waste. There are drones for site surveying, construction monitoring, and even directing automated construction machines. And there are manned and unmanned automated construction machines. How long will it be before robots will do all the construction work and it only takes a week to put up a building?

For now, humans are still doing the work. That means contractors, both general and artisan, will be in demand and they will need coverage. Big "I" Markets offers several different contractor coverages for you to offer.

Travelers Select - Submit under the product named Small Commercial.
Not Available in All States

Chubb Small Commercial - Submit under the product named Small Commercial.
Not Available in All States

CBIC/RLI - Submit under the product named Small Contractors.
RLI/CBIC available in AZ, CA, ID, MT, ND, NM, NV, OR, TN, TX, WA, WY.

CBIC/RLI Large Contractors - General & Artisan Submit under the product named Contractors - General & Artisan
Commercial General Contractors
$3M - $10M annual sales

Commercial work only

New construction

TIB work

No paper GCs
Commercial Artisan Contractors
Over $2M in annual sales

Commercial new construction

Commercial and residential service work

Will allow custom home jobs
Large Contractors program is available to members in all states except NY.

For more information, log into www.bigimarkets.com and click on Small Commercial, Small Contractor or Contractors - General & Artisan. You may also contact Big "I" Markets commercial underwriter Tom Spires at tom.spires@iiaba.net or (800) 221-7917 ext. 5470.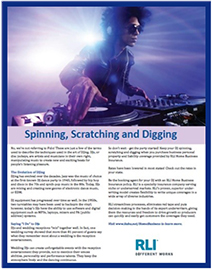 We have one of the best challenges an association products team can face here at Big I Advantage - and that's finding a way to keep Big "I" members informed of the many, many products and programs we have in place to bring value to your agency.

From agency professional liability insurance to protect your agency, to affluent homeowners insurance to protect your clients, to 401(k) retirement services designed to protect your future, we are constantly working to bring solutions to your agency that will have you thinking of the Big "I" first when faced with challenges large or small. It's a lot to stay abreast of!

That's why twice a year we publish a multi-page newsletter highlighting insurance and other product updates. The latest issue is now available for you to dive into!

This issue highlights the addition of the Coalition cyber liability product, as well as:
Big "I" Flood

Big "I" Personal Umbrella

Big "I" Home Business Insurance

Big "I" Professional Liability (and risk management!)

Big "I "Retirement Services

Big "I" Employee Benefits

Big "I" Markets product updates

Big "I" Business Resources

… and more
We hate to think of any member agency leaving valuable member benefits on the table simply because they were unaware of what is offered. That's why we hope you'll click to download the current Big I Advantage newsletter, and take time to browse the many programs available exclusively to you as part of your membership with the Big "I."

You can learn more about these and additional IIABA offerings at www.iiaba.net.
---
Use RLI's Personal Umbrella Video to Educate and Inform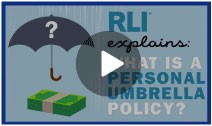 RLI, the Big "I"-endorsed umbrella provider, has created a three-minute video to educate consumers about the benefits of a personal umbrella liability policy. The video is brief and entertaining. It explains an umbrella in simple terms, then provides examples of umbrella claims that any consumer can relate to.

Many people simply aren't aware of what umbrella coverage is all about! So we encourage you to add this to your own web site, or post to social media, or directly email it to your clients telling them to check out a brief overview of personal umbrella and letting them know you can assist with this coverage.

By helping your clients understand how a personal umbrella safeguards their personal assets and future earnings, you open up a conversation that can lead to an umbrella sale for your agency. If the customer declines the coverage, be sure to document this using our personal umbrella decline form.

The video is available on RLI's YouTube channel and webpage, and on the Big "I" website. Click to play it now and see what you've been missing! The catchy music is just the icing on the cake.

Learn more about the Big "I" Personal Umbrella program at www.iiaba.net/RLI.