---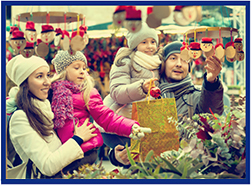 'Tis the season for holiday bazaars! Events held by churches and community organizations provide a marketplace for many home-based businesses to place their goods for sale. Holiday crafts, baked items, retail toys and more help everyone to get into the holiday spirit. These home-based businesses should have insurance coverage and would benefit from RLI's Home Business Insurance policy.

Home-based business owners may think their homeowners or renters policies will cover liability and medical payments resulting from their business activities. In reality, most policies exclude coverage for business exposures.

Ask your customers about their home-based business exposures and review their policies to see if they need additional coverage. For holiday bazaar vendors, RLI's Home Business Insurance policy can be written for those who:
make holiday cakes, pies and cookies

sell popcorn/candy and nuts

make ceramics, handicrafts and wood products

make holiday cards, including photographers

sell games, puzzles and retail toys

sell antiques and art

make leather goods and clothing

make costume jewelry
See the full list of eligible businesses!

Many holiday bazaar venues require vendors to list the event organizer and property owner as an Additional Insured, and RLI can accommodate that as well.

Coverage includes up to $1 million in business liability protection, up to $100,000 comprehensive coverage for business personal property and $5,000 per person for medical payments to customers injured on-premises and coverage for loss of income. The product is targeted to more than 143 retail and service risks that present minimal product and/or professional liability exposures. Coverage also extends to business personal property that is in transit or temporarily off-premises when an insured is offering products at community centers, churches, local malls, etc.

For more information on RLI's Home Business Insurance Policy, or to contact your state's administrator, visit www.iiaba.net/homebusiness.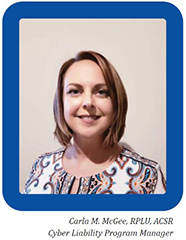 Meet Big "I" Markets' dedicated cyber program manager and learn what she's seeing in the field.

Why is cyber liability an important coverage to understand and offer?

The need for Cyber Liability coverage is imperative to the continuation of a business after a breach. In addition to independent agents educating their consumers on the need for cyber liability insurance, some businesses are purchasing coverage due to third party requirements.

Unfortunately, many business owners do not understand that cyber crimes happen to all sizes of businesses.

Larger businesses may have more… Click here to read the full conversation and FAQs.

Contact McGee with your cyber program questions at carla.mcgee@iiaba.net.
---
Lay-Up With Chubb Recreational Marine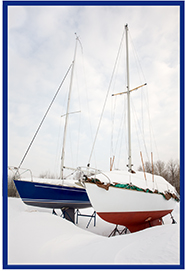 As the summer boating season winds down, boat owners across the country are beginning to prepare their vessels for winter storage. To help customers with this important lay-up process, Chubb is sharing its "Going Into Lay-Up" tip sheet, along with a full length "Going Into Lay-Up" brochure. Developed by Chubb's team of highly experienced marine specialists, these education resources are designed to help yacht and boat owners store their vessels safely over the winter and ensure readiness for spring commissioning next year. We encourage you to share this valuable information with your clients whenever possible. You can download the PDFs from the following links:

Chubb Recreational Marine - Into Lay-up Tip Sheet (PDF)
Chubb Recreational Marine - Into Lay-up Brochure (PDF)

For over a hundred years, Chubb and its predecessor companies have offered unparalleled stability and protection for small boats, yachts, luxury mega-yachts, and more. Whether your clients own a runabout, sailboat, yacht or mega-yacht with a full-time captain and crew, Chubb offers some of the most seaworthy coverages and services available.


Personal Watercraft

Boats 35' or less

Yachts: 36' and greater

$3m and greater, 70' in length and greater, with a full-time paid captain
For more information or to request a quote haul your keel over to www.bigimarkets.com and select Recreational Marine from the product menu.