---
Chubb Small Commercial Insurance now offers more eligible lines of business for manufacturing risks and Artisan contractors. Additionally they now offer Workers Comp for Restaurant risks.
Chubb's business owner's policy (Chubb BOP) is designed specifically for small businesses. With broad protection for property and liability exposures, Chubb BOP serves as the foundation for your clients' insurance portfolio.

Appetite
Chubb BOP helps protect small businessowners with up to $30M in revenue, in more than 500 business classes across the following industries:
Artisan contractors

Clubs and associations

Cultural institutions

Financial services

Healthcare

Real estate

Retail stores

Service businesses

Technology

Wholesale businesses
Check out the full list of eligible businesses.

Coverage
Chubb BOP is developed from our renowned commercial package, Customarq, to provide superior coverage tailored for small businesses. This state-of the-art policy is crafted to address industry specific risks with multiple features for property and liability insurance.

Optional enhancements:
Property enhancements including a unique automatic blanket limit of insurance concept that ties together valuable property coverages

Liability enhancements including broad named insured and blanket additional insureds

Privacy and data breach

Animal bailee coverage

Earthquake (in selected states)

Employment practices liability

Foreign liability including kidnap and ransom

Electronic data liability

Equipment breakdown

Water back-up and sump overflow

Professional liability insurance for beauty parlors, dental labs, florists, funeral directors, hearing aid establishments, optical establishments, printers, and veterinarians

Crime, including forgery and alteration, money and securities, as well as employee dishonesty
Total Account Solution
Building a portfolio with Chubb means broad, state-of-the-art insurance protection all in one place. Add supporting insurance products to a Chubb BOP policy for the complete insurance solution your clients want.
Umbrella: Umbrella insurance from Chubb provides an additional layer of coverage over existing liability policies, offering small businesses even more insurance protection.
Workers' Compensation: Chubb's workers' compensation policy provides small businesses an insurance solution with broad coverage and Chubb's exceptional policy and claims service.
Commercial Auto: Chubb's commercial auto policy includes personal injury protection, uninsured and underinsured motorist coverage limits up to $1M as well as endorsements that include additional coverages.
Management and Professional Liability: Chubb's ForeFront Portfolio suite provides additional management and professional liability insurance including employment practices, crime, and cyber liability.
Cyber Enterprise Risk Management (ERM)/DigiTech® ERM: Using a three-prong approach, Cyber ERM and DigiTech ERM incorporate risk transfer, loss mitigation services, and post-incident services to help protect against your client's cyber risks.
Foreign Package: As your client's business spans national boarders, their coverage must expand too. Chubb SCI's foreign package policy is a multiline coverage that protects more than inventory and intel, it protects your client's greatest asset, it's people.
Why Chubb?
Chubb SCI leverages superior underwriting expertise with world renowned claims, account services, and financial strength. Your clients work hard to grow their business, so they need an insurance company that can grow with them. Chubb's longstanding tradition of excellence makes us an easy, and wise, choice.

Optional Solution - Customarq Package
If your client is in need of a tailored solution, consider our commercial Customarq Package. Using Customarq, agents and brokers can choose to submit business either online or through their local Chubb branch. To learn more about the solutions offered by Chubb's Commercial Insurance division, please visit chubb.com.

Chubb Small Commercial Insurance (SCI) leverages superior underwriting expertise and world-renowned claims, account services, and financial strength to offer solutions for small businesses with up to $10M in revenue. Chubb recognizes that not all coverages fit the needs of every business and that is why they have crafted a customizable suite of state-of the-art insurance products to fit your client's specific needs. Available in all states except AK FL, HI & LA.

Our other Small Commercial carriers:
Travelers Select®: Travelers Select Accounts offers a robust variety of coverages for small businesses. A proprietary BOP product, Master Pac®, Workers' Compensation, Commercial Automobile, and Commercial Umbrella are available, with a broad array of industry-specific coverage options and coverage extensions. Travelers is available in all states except AK, FL, HI, LA, RI & TX.
CNA Small Business: CNA Small Business currently offers a market for a broad variety of businesses, representing Healthcare, Financial Institutions, Professional Services, Business Services, Technology, Retail, Real Estate, Wholesalers and Manufacturing. BOP, Workers Compensation, Commercial Automobile, and Umbrella and Miscellaneous Professional Liability products are available. CNA is available in all states except AK & HI.
ACORD Applications and 3-year loss runs will be required.

If you have any questions about Chubb or the Small Commercial product, please contact Big "I" Markets Commercial Underwriter Tom Spires at tom.spires@iiaba.net or Claire McCormack at mailto:claire.mccormack@iiaba.net.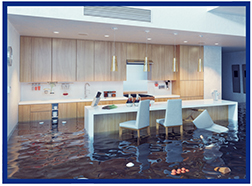 Flooding is the most common natural disaster in the United States, affecting every state. In addition to hurricanes, flooding can be caused by rainstorms, snowmelt, runoff created by wildfires and much more.

Everyone lives in a flood zone - it is just a question of whether the home is in a moderate-to-low zone or high risk area. While flood insurance is typically required on properties in high risk areas, people outside of high-risk areas file over 20% of NFIP claims.

Chubb offers flood insurance to affluent homeowners through Big "I" Markets. Join BIM and Chubb on Feb 21, 2019 at 2 p.m. Eastern for a free webinar providing an overview of flood insurance available to your insureds through the Chubb affluent program.

Panelists from Chubb include:

Tracey Reid, ASLI
Underwriting Manager, Private Flood Services Division

Lydia Argote, ANFI, CPSR
Senior Underwriter, Private Flood Division

Meghan Jackson
Washington DC Business Development Manager, Chubb Personal Risk Services

Register today. There is no cost to attend; please note this session is open only to registered Big "I" Markets agents.
---
Online Tool Identifies Real-time Flooding Data
Big "I" Flood program partner Selective has an important new tool to share with Big "I" member agents.

The Advanced Hydrologic Prediction Service (AHPS) is a new and essential component of the National Weather Service's Climate, Water, and Weather Services. AHPS is a web-based suite of accurate and information-rich forecast products. They display the magnitude and uncertainty of occurrence of floods or droughts, from hours to days and months, in advance. These graphical products are useful information and planning tools for many economic and emergency managers. These new products will enable government agencies, private institutions, and individuals to make more informed decisions about risk based policies and actions to mitigate the dangers posed by floods and droughts.

Check out the Advanced Hydrologic Prediction Service. To view areas of imminent concern, change "all locations" from the top menu bar to "near or above flood stage locations."

The majority of the observed water level data displayed on the AHPS web pages originates from the United States Geological Survey's (USGS) National Streamflow Information Program which maintains a national network of streamgages. In addition, real-time water level information is collected from other federal, state, and local streamgage networks.

Big "I" Flood and Selective's relationship helps deliver members an unparalleled flood program experience. Together, we offer agents several layers of support to meet their flood insurance needs. The Big "I" and Selective staff can help with all of your flood questions. With personalized support, competitive commissions, and an easy-to-use quoting platform, it is an easy decision to start writing your flood business through the Big "I" Flood-Selective partnership today.

Learn more at www.iiaba.net/Flood or contact BigIFlood@iiaba.net.