---
By Meghan Jackson, Business Development Manager for the Washington DC Territory, Chubb PRS


ou've probably had a customer say, "Is flood insurance really necessary where I live?" The answer is YES! While everyone is financially vulnerable to flood losses which occur year-round, recent research shows that policyholders located outside of mapped high-risk areas file over 20% of NFIP claims. That said, only 1/3 of the monies set aside for Federal Disaster Relief can go to areas located outside of mapped high-risk flood zones.

The good news is that through Big "I" Markets you have access to the same great flood products available to Chubb homeowner and condominium/cooperative policyholders! Chubb Personal Risk Services is open for primary & excess flood business via their partner, WNC First, and the product offers higher limits and broader coverage than what is available from the NFIP. Better yet, the product comes with the same exceptional claims service that your clients have come to expect because actual Chubb claims adjustors will be dispatched in the event of a flood loss! This means that a Chubb claims professional will make initial contact with your client within six hours or less (once the claim has been reported) and most covered claims will be paid within 48 hours of settlement.

Highlights of Chubb's Primary Flood coverage include:
Higher limits for high-value homes: Up to $15M in total property coverage available.

Replacement cost for damaged property & possessions: In many cases, standard flood policies won't cover the full cost to repair or rebuild the home after a flood. Chubb will pay to replace your clients' property and possessions (up to the policy limit), without deduction for depreciation, in the event of a covered loss.

Rebuilding to code: Coverage up to $30,000 is included for costs to comply with any law or ordinance requiring that your clients repair, rebuild, elevate, flood-proof or demolish your home after a covered loss. Higher limits are available for an additional premium.

Better coverage where floods are likely to cause the most damage: If your client has a finished basement that serves as a home theater, game room or other purpose, Chubb offers added protection for "real property" as well as contents in this damage-prone section of the home.

More coverage for precious possessions: Chubb offers higher-than-average limits for special possessions such as art, collectibles, jewelry and silverware, furs and even golf carts -- $5,000 for each category.

Coverage if your client must live away from home due to flooding: Additional Living Expense coverage up to $7,500 pays for a temporary residence, meals and other expenses if your client's home can't be lived in during rebuilding or repairs after a covered flood loss. Higher limits are available for an additional premium - refer to the table below for more information.

Loss avoidance measure: Coverage up to $5,000 is included for expenses to help protect the home from flood damage and to move property out of harm's way when a flood warning is issued.

Related coverages: Coverage for debris removal, condo or homeowner association loss assessments and business property is also included.

More deductible options: Chubb offer deductibles ranging from $500-$50,000.
Automatically Included

Buy-upLimits Available*
a
Contents in Basement**

$15,000

Up to $500,000 total, in $5,000 increments

Real Property in Basement***

$30,000

Up to $1M total, in $5,000 increments

Additional Living Expenses****

$7,500

Up to 50% of total flood coverage, in $5,000 increments

Rebuilding to Code

$30,000

Up to 25% of flood coverage in $5,000 increments;
* The buy-up limits are only available in states where higher buy-up limits are filed. Some states have limitations (i.e. $50,000 contents in the basement, $250,000 real property in the basement, $107,500 ALE, $45,000 rebuilding to code). All higher limits are subject to underwriter review.
** Contents in Basement coverage is not available if Contents coverage isn't selected. Not to exceed total amount of flood coverage for contents.
*** Real Property in Basement coverage is not available for a condo if Additions & Alterations coverage isn't selected. Not to exceed the total flood coverage for the building, or if a condo, A&A coverage.
****Additional Living Expenses coverage is only available for House and Condo/Co-op policies. It is not available for Other Permanent Structures.
Basic Eligibility Criteria
A unique feature of the Chubb Flood program is that underwriting goes beyond FEMA Flood Zone information to include specific risk characteristics and prior loss experience. While final eligibility will be determined during the underwriting process, here are some basic eligibility guidelines:
Client has a good-standing Chubb Masterpiece or Platinum Portfolio Homeowners policy

The first living floor of the residence must be at or above Base Flood Elevation (BFE)

No prior flood losses at the location for Primary Flood eligibility

The Dwelling or Additions and Alterations limit on the underlying home policy cannot exceed $25M, regardless of the amounts of flood coverage being requested

For locations subject to surge, the Excess Flood product may be an option - see below for listing of state where Excess Flood is available
The Chubb admitted Flood products are available in the following 37 states:

| | | | |
| --- | --- | --- | --- |
| Arizona | Indiana | New Jersey | Tennessee |
| California | Kansas | New Mexico | Texas |
| Colorado | Maine* | New York | Utah |
| Connecticut | Massachusetts | North Carolina* | Vermont |
| District of Columbia | Maryland | Ohio | Virginia |
| Delaware* | Michigan | Oklahoma | Washington |
| Florida | Minnesota | Oregon | Wisconsin |
| Georgia | Missouri | Pennsylvania | |
| Idaho | Nevada | Rhode Island* | |
| Illinois | New Hampshire | South Carolina | |
* Only Excess Flood available in these states
Learn more by today logging into www.bigimarkets.com and clicking on "Affluent Program - New Business."
Agents writing business through Big "I" Markets must now receive commission on their policies monthly via Electronic Funds Transfer (EFT). Otherwise, you'll receive commissions semi-annually, in March and September via paper check.

Getting signed up is easy to do from the Big "I" Markets website. Note, only a user with System Admin or Organizational Admin roles can update your registration. Don't know who that is? Call Big "I" Markets at 703-647-7800.
Gather your banking and related information:

Bank account number and routing number

Tax ID (to be sure it hasn't changed from when you first registered for BIM)

Email address of the person to receive commission statements




Now, go to www.bigimarkets.com and click on "Register/Update EFT Commission Deposits" in the upper right area of the screen.


Enter your user credentials and select 'Login'

Verify/Update your agency information on the first page (Step 1). Click Update or Next

Verify/Enter Federal Tax ID and related questions on Step 2

Enter information indicated under EFT Information

Click 'Next' to save the information.
You may exit the online registration after this step and your EFT sign up will be complete. However, we encourage you to continue and verify all of the information for your agency, including adding any new users.

Please note, no money is drafted from your account for return commission as that is handled via a paper invoice mailed to your agency. So, they'll put money in but not take money out.

We know security of your information is a primary concern. Big "I" Markets uses secure socket layer (SSL) protocol to secure the information exchanged between the server and browser. SSL encrypts the data before it is sent over the Internet and decrypts at the server side. Standard security protocols are being used to protect your data on the BIM server.

For questions, concerns or require technical assistance, please contact bigimarkets@iiaba.net or 703-647-7800.
---
Travel Insurance - Don't Medevac Without It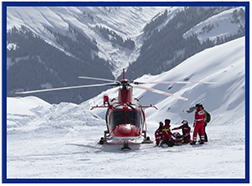 American travelers spent a whopping 8.7 billion hours planning and booking travel according to this 2017 study. Unfortunately, 41% of those Americans traveling internationally don't buy travel insurance. Read this account from a travel agent who forgot to secure coverage for her own trip for a reminder of how badly things can go awry.

In some countries life-saving care may be denied even at first-rate facilities depending on the scenario.

Even a minor medical treatment can result in price gouging and travelers being required to pay thousands or tens of thousands in order to be dismissed.

Accidents and illness can strike anywhere and victims are not always close to accessible and decent medical care. Examples include:
Skiing in mountains

Contracting a major illness on a cruise ship. The captain of the ship is under no obligation, and may even be prohibited, from changing course to get you to a hospital sooner.

Falling down the steps of Tibetan temple
As a Big "I" Markets agent you can offer your clients travel insurance through our partner carrier Travel Insured International. The typical plan will cover emergency medical expenses, baggage loss and delay, and recover at least some of the cost of the trip if the vacation had to be canceled or cut short.

Emergency Medical Evacuation and Repatriation under our Travel Insurance product covers three areas. The first is transport from where the accident/illness occurs to the closest medical facilities with adequate medical treatment. The second is transport back to the U.S. with adequate escort if needed. The third is for transport of remains back to the U.S. if the worst should happen.

By investing in a plan with Cancel for Any Reason Coverage, clients may cancel their plans and get up to 75% of their total trip cost for any reason they choose, including a travel alert. They just to have purchased within 21 days of deposit (other eligibility conditions must also be met) and cancel 48 or more hours prior to scheduled departure in order to be eligible.

The TII travel blog covers a myriad of travel related subjects, including travel agent myths, avoiding germs on flights, using a cellphone abroad, beating motion sickness, and picking the right hotel, just to name a few.

Travel Insurance is available in all states, coverages may vary. The Travel Insurance International help desk can be reached at (800) 243-3174.

Nancy Doherty can be reached by email nancy.doherty@iiaba.net or at (800) 221-7917 x5389. Submit business online at www.bigimarkets.com.