---
By Meghan Jackson, Business Development Manager for the Washington DC Territory, Chubb PRS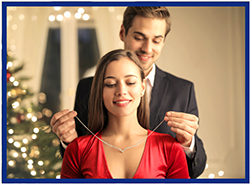 According to the National Retail Federation, jewelry was one of the top 10 types of gifts consumers planned to give over the holidays. This means there is a good chance your clients and prospects received jewelry as a gift this holiday season, presenting a great opportunity to ask this one important question:


Did you receive a piece of jewelry as a gift over the holidays?


As you kick off the new year, it's the perfect time to reach out to your clients and prospects and ask if they received jewelry as a holiday gift. If so, be the hero and make sure their treasured gift or purchase is adequately protected and provide them a quote with Jewelers Mutual at jewelry.bigimarkets.com.

Don't let your customers rely solely on their homeowners insurance as their jewelry may only be protected against specific causes of loss and usually up to a specified limit.

When it comes to insuring your clients' jewelry, here's why specialty jewelry insurance from Jewelers Mutual Insurance Group makes sense:
Jewelry is all they do and they've been doing for 105 years

Repair and replacement policy means the ring gets back on the finger where it belongs

Jewelers Mutual offers flexibility to work with the insured's trusted jeweler of choice; no need for multiple estimates

Claims start with a jewelry expert who knows exactly what your client needs and ends with a same-kind-and-quality jewelry piece.
The Difference Between Standalone Jewelry Insurance and a Homeowners Policy
See our coverage comparison chart below for the benefits of having a standalone jewelry insurance policy versus relying on coverage through typical homeowners or renters insurance or a rider.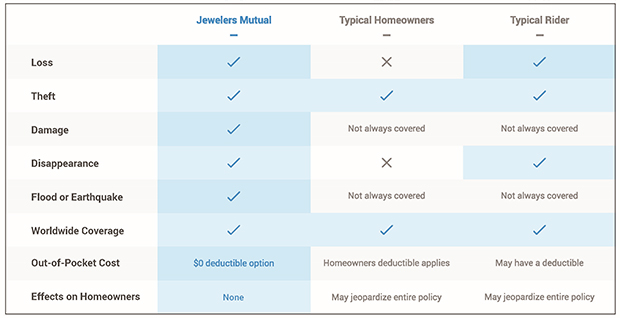 What does Jewelers Mutual cover? All types of jewelry - engagement rings, watches, earrings, even loose stones being set - are protected by comprehensive repair or replacement coverage that goes beyond typical homeowners or renters insurance. It protects against common perils associated with jewelry loss - like mysterious disappearance, and even includes worldwide travel.

If something should happen to your clients' jewelry, they can work with a trusted jeweler of their choice to repair or replace their piece with the same kind and quality.

For more information about Jewelers Mutual, visit Jewelry Insurance on the Big "I" Markets product listing. Coverage is available to Big "I" agents in all states.
The next session in the Big "I" Professional Liability/Swiss Re Corporate Solutions quarterly webinar series will focus on commercial lines coverage placements.

Commercial placements have been a leading cause of insurance agents errors & omissions claims for years. If your agency has exposure to these types of coverages, you don't want to miss this webinar scheduled for Feb. 6, 2019 at 2 p.m. EST.

Our panelists will take an in-depth look at a number of different claims and answer the following: What went wrong? What was the outcome? And what could be done differently to prevent a similar type of claim at your agency?

Reserve your spot for Agency Risk Management Essentials: Commercial Lines - Back to Basics today.

If you have any questions, contact Jim Hanley at 703-706-5469.
---
Commercial Auto or Fleet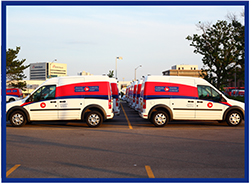 The terms "commercial vehicles" and "fleet vehicles" are often used interchangeably, and although there is some overlap in their meanings, they should not be used as replacements for one another, at least in most cases. So what are the differences between them?

Commercial vehicles are designed for the transporting of goods or large groups of passengers. Cargo vans are the most commonly referred to commercial vehicles, but heavy-duty trucks like the Dodge Ram HD or Ford Super Duty also fall within the commercial vehicle category. Usually commercial vehicles belong to a company or corporation and are used for business purposes.

Fleet vehicles must be owned by an organization, business or agency rather than privately owned. Fleet vehicles can be any body type small cars to the larger pickups and vans. The definition of fleet vehicles is much simpler than that of commercial vehicles, as there are no size requirements, only the requirement that they be owned by a business rather than individuals. On a more generally basis a fleet is 5 or more vehicles.

Big "I" Markets offers Commercial Auto - Monoline with three carriers (Travelers, MetLife & Progressive) from which to choose. Liability ranges from $1-$2 million. Coverages and availability vary by state and carrier.

Travelers
Travelers small commercial auto coverage provides up to 1 million dollars of liability protection and can be written on a monoline basis for classes of business that would be eligible for the Travelers Select MasterPac program. Travelers will entertain vehicles used commercially, but is NOT a market for:
Coverages available but not limited to:
Liability - $1M

Broad range of deductibles

Ability to write multi-state exposures on one policy

Hired Auto Physical Damage

Employee Hired Auto

Blanket Additional Insured

Auto Loan Lease Gap
Travelers Select Commercial Auto is available to members in all states except AK, HI & TX.

MetLife Auto & Home Business Insurance MetLife Auto & Home Business Insurance provides dependable and hassle-free coverage to an array of small businesses in your community that use commercial autos and trucks in their daily activity and have a commercial auto fleet of up to nine vehicles. Here are just a few examples:
Contractors

Professional and Technical Services

Retail Businesses

Wholesalers and Distributors

Manufacturing and Local Trucking Companies

Delivery Services
Vehicles (Private Passenger Types and Trucks) with a gross vehicle weight of 20,000 lbs. or less and most trailers are eligible. The vehicles' operational radius (one way) can be 99 miles or less.

Coverages available include:
Liability Limits from $100,000 to $2 Million CSL

Comprehensive and Collision Deductibles of $250, $500, $1,000, $2,500 and $5,000

Hired Auto/Non-owned and Drive Other Car Coverage

Business Interruption

Audio, Visual and Data Electronic Equipment Coverage to $10,000

Tapes, Records and Discs Coverage to $200

Auto Loan Lease Gap

Loss of Use
MetLife Auto & Home Business Insurance is currently available to members in AZ, CA, CT, FL, GA, IL, IN, MN, NC, NJ, NY, OH, OR, PA, SC, TX and WA. More states will be available in the near future.

Progressive Progressive Insurance offers a wide range of commercial auto insurance programs to fit the needs of the small business operation. Whether it's for passenger autos or heavy trucks, Progressive can write the policy. We offer robust coverages for a wide variety of drivers and vehicle types, with accurate and competitive pricing that considers each risk independently. Examples of eligibility include:
Janitorial services

Social/health services

Retail shops

Religious/nonprofit organizations

Couriers

Adult/child care

Airport/hotel shuttles

Contractors

Landscapers and snowplowers

Concrete/asphalt

Heavy construction

Farming and livestock

Food truck vendors

Food delivery

Wholesale route distributors
Progressive offers robust coverage options such as:
Higher Limits - up to $2M (it is Big "I" Markets' business practice to not quote less than $100,000. This is NOT a recommendation. As the sub-producing retail agent it is incumbent upon you to work with your client to request adequate limits for their exposure.)

Any Auto Liability

Hired Auto Liability

Employers' Non-Ownership Liability

Drive Other Car

Roadside Assistance

Rental Reimbursement
Progressive is currently available to members in AZ, CA, CO, FL, ID, MD, MN, MO, MT, NY, PA, RI, SD, TN, TX and VA. More states will be available in the near future.

If you have any questions about the Commercial Auto-Monoline product, please contact Big "I" Markets Commercial Underwriter Tom Spires at tom.spires@iiaba.net or Claire McCormack at claire.mccormack@iiaba.net.