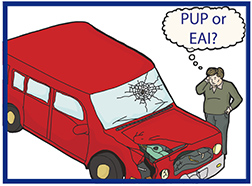 Bob is driving his own car to the office supply store. He is doing an errand for his employer, Acme Anvil Co. He has a personal auto policy with $300,000 of liability coverage, collision, and a Personal Umbrella [PUP] of $1,000,000. Acme has a Business Auto Policy [BAP] with hired and non-owned auto coverage at a limit of $1,000,000. Acme's insurance includes "Employees as Additional Insured" [EAI].

Bob causes an accident that results in damage to his car and $10,000 damage to a stopped vehicle. There are three passengers in the car who all claim injuries of various severity. They sue Bob and Acme. The court awards the injured passengers $500,000 from Bob and $750,000 from Acme.

Bob's auto insurance pays for the damage to his car (less deductible), his legal expenses and up to $290,000 of the judgment (his $300,000 limit of liability less the $10,000 paid for the damage to the other vehicle.) Acme's insurance pays for their legal fees and the $750,000 award, leaving just the judgement against Bob in excess ($210,000) of his PAP coverage.

With regard to the judgment against Bob in excess of his PAP: Which do you think would kick in first, Bob's PUP or Acme's EAI? Why?

Submit your response to michael.welch@iiaba.net. One answer will be chosen at random to receive a $10 gift card.

Winner to be announced next week along with the Ask an Expert responses from Virtual University.!
---
Cover Photography Equipment with RLI Home Business Insurance
Photography equipment is expensive, ask any photographer. Photographers' Business Personal Property values may be in excess of $20,000. If a loss happens, how difficult would it be to replace that property without any interruption in business operations? A Home Business Insurance policy from RLI will lessen the stress when the unexpected happens.

Consider the following real-life claim scenarios and the benefits of insuring photographers with a Home Business Insurance policy.

SCENARIO #1: Damage to camera lens
Incident: Insured was taking pictures of the sunset one fall evening. Holding the camera strap in their hand, they walked down the concrete path to get a better angle. The strap of the camera broke causing the camera to drop to the ground, shattering the lens in many pieces.

Outcome: RLI paid the $1300 repair cost and the insured had their camera repaired in less than one week.

SCENARIO #2: Theft of camera equipment from car
Incident: Insured was on their way to capture the images for their client's wedding, needing to stop at the local convenience store on their way. In just ten minutes, their car was broken into and their bag of camera equipment was gone.

Outcome: RLI paid the $12,000 limit to replace the insured's inventory, as well as covering the Extra Expense of $2300.00 the insured incurred for renting similar equipment allowing them to fulfil their business commitment to their client.

SCENARIO #3: Total fire loss
Incident: A fire broke out destroying the insured's home and all of the property inside the home. The insured was not able to salvage anything, suffering a total loss to both their personal and business property.

Outcome: RLI paid the $55,000 policy limit to replace all of the insured's inventory, as well as covering the Business Income loss of $25,000 the insured sustained until they were able to get their business up and running again.

Business Personal Property coverage is just one of many valuable coverages photographers should not go without. RLI's Home Business Insurance policy provides this important coverage along with Business Income, Extra Expense and Business Liability coverage. Help your photographers make wise decisions when purchasing coverage for their business operations.

Coverage includes up to $1 million in business liability protection, up to $100,000 comprehensive coverage for business personal property, $5,000 per person for medical payments to customers injured on-premises and coverage for loss of income.

For more information on RLI's Home Business Insurance policy, or to contact your state's administrator, visit www.iiaba.net/homebusiness.