Risk Management Resources Available to Swiss Re Corporate Solutions Policyholders



Thank you for being a policyholder with the Big "I" Professional Liability program. We believe that agency risk management is key in not only preventing errors, but also in providing agencies with tools to more efficiently service their customers. All policyholders of the Swiss Re Corporate Solutions/IIABA professional liability program have exclusive access to the risk management information developed from our more than 30 years of experience insuring agencies. Check out these free resources:


Big "I" Risk Management Website – E&O Happens
This website contains comprehensive information and tools such as an overview of common mistakes that cause E&O claims; real-life case studies for learning; best practice tips; sample disclaimers, procedures and client letters; operational self-assessments; E&O-related articles, and more.
Visit www.independentagent.com/EOhappens to log in. (FREE)
---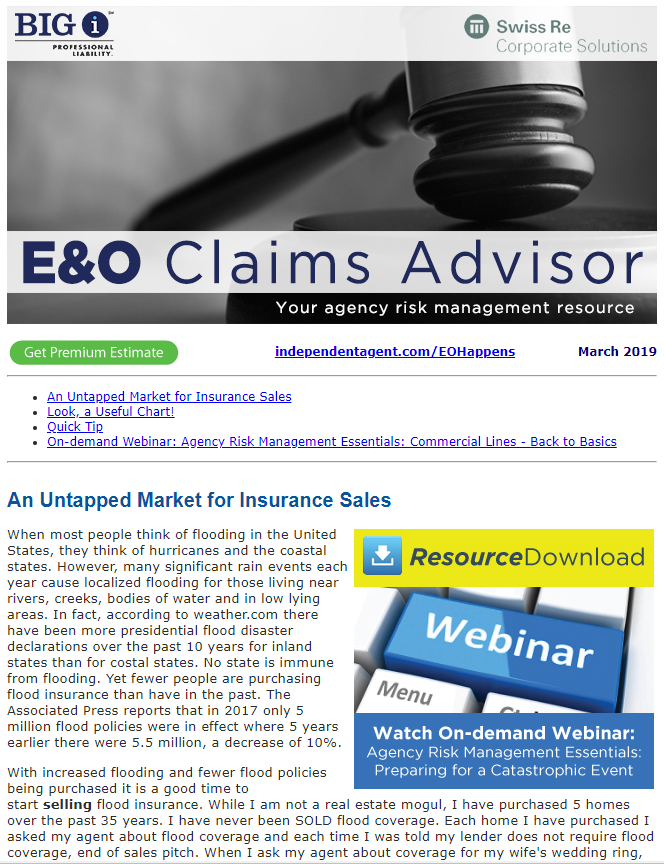 E&O Claims Advisor Newsletter
Published monthly and emailed to agency staff, this newsletter provides valuable information on agency E&O trends and hot topics. Review archived editions here. (FREE)

---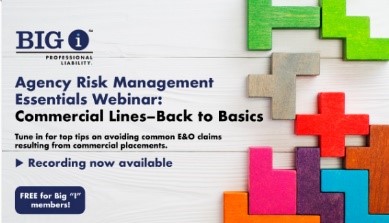 Risk Management Webinars
Our quarterly webinars address emerging E&O risk management topics. Less than an hour in length and perfect for all agency staff, the webinars include detailed discussion from industry leaders on reducing exposure to E&O claims. Watch your inbox for invitations to register, or browse our library of past topics and watch on demand. (FREE)
---

Learn more about these resources at www.independentagent.com/EOHappens.