---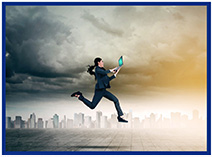 According to The Business Research Company, the professional services market is expected to grow 5.4 percent from 2016-2020. In fact, within professional services, employment of both accountants and real estate appraisers is projected to grow faster than the average for all other occupations. From 2016 to 2026, accountants have an expected employment growth of 10 percent while the expected growth of real estate appraisers is 14 percent.

As the leading carrier in professional services, CNA knows the unique risks these firms face. According to CNA claim data, the most frequent causes of loss for professional services are water damage, theft and fire. Fortunately, these are the types of claims covered by CNA Connect®, and their business owners policy.

CNAs Broad Appetite Includes:
Accountants

Real Estate Agents

Lawyers

Management Consultants

Architects

Engineers

Design Consultants
CNA Connect®
CNA's flagship business owners policy makes it easy to give your clients broad and relevant property and liability coverage. CNA Connect® is available for more than 600 classes of business, making CNA the clear choice for business insurance for small professional services firms.

Choice Endorsements
CNA Connect® is customizable with specialized Choice Endorsements and a wide range of limit options. These offerings are specific to professional services firms and include endorsements for accountants, lawyers, architects and engineers, and real estate agents and brokers.

For more information, log into www.bigimarkets.com and click on Small Commercial or contact Big "I" Markets commercial underwriter Tom Spires at tom.spires@iiaba.net or (800) 221-7917 ext. 5470. This market is available in all states except AK, FL, HI and LA.
Navigating the Hazards of Buying, Selling and Merging an Agency
Navigating the Hazards of Buying, Selling and Merging an Agency

Big "I" Professional Liability offers free quarterly risk management webinars as an exclusive Big "I" member benefit.

Join us June 20th, 2018 from 2 p.m.-3:30 p.m. EST for the next FREE session in the Big "I" Professional Liability and Swiss Re Corporate Solutions Agency Risk Management Essentials webinar series, Navigating the Hazards of Buying, Selling and Merging an Agency.

In just 90 minutes our panelists will steer attendees through the many hazards associated with buying, selling and merging an agency. Attendees will be provided with the essentials, as well as some tax and E&O implications of a merger or acquisition. Finally, we will have some claim examples of how bad claims happened to good agents following such a change.

The panel discussion will feature Bob Skow, CPCU, CAE, former CEO of the Independent Insurance Agents of Iowa; Dirk S. Nohre, CPA, CPCU, ABV, President, Nohre & Co. Certified Public Accounts and Consultants: Matt Davis, Swiss Re Corporate Solutions Claims Manager; and Jim Redeker, Swiss Re Corporate Solutions Claims Manager. Annette Ardler, CPIW, DAE, AIAM of Swiss Re Corporate Solutions will moderate the discussion.

Register today for Navigating the Hazards of Buying, Selling and Merging an Agency.

If you have any questions relating to the topic that you would like addressed during the discussion, please email Big "I" Professional Liability's risk management director Jim Hanley.

This webinar series is provided by the Big "I" Professional Liability risk management team. A collection of risk management resources, including articles, checklists and webinar recordings, are available on the E&O Happens website. Log in with your Big "I" username and password to check it out.
---
RLI's Home Business Insurance: Protecting Your Home Business in the Event of an Inland Flood
With changing weather patterns causing more severe and frequent rainstorms and snowstorms with significant snowmelt, the threat of costly flood damage due to inland flooding is growing. Today, even home-based business owners in normally low to moderate flood risk areas need coverage.

RLI's New, Affordable Coverage
RLI has partnered with Munich RE to provide affordable, inland flood insurance to cover the most common flood exposures. We offer Inland Flood Coverage as an endorsement to our Home Business Insurance policies.

Designed specifically for home-based business owners in lower flood risk areas, this coverage is affordable and insures the most common flood exposures. The endorsement covers:
Business Personal Property

Business Income and Extra Expense

Business Personal Property Removed to Safety

Limited Fungi, Wet Rot or Dry Rot
Exclusions include, but are not limited to, damage to business personal property not inside the home, sump pump discharge or overflow, or back up of sewers or drains, unless caused by flood. Eligibility includes single and multiple family dwellings (1-4 condo units) in all FEMA Flood Zones except those beginning with A and V prefixes, and it does not satisfy federally-regulated mortgage lender requirements.

Protecting a Home Business: A Claims Example
A creek behind a home overflowed, inundating normally dry land and causing damage. Water entered the basement through the windows, and the sump pump could not handle the excess water from the flood. In addition, there was a clear watermark on the outside of the home. The insured had $15,000 of Inland Flood Coverage Limit with a $500 deductible.

HOW RLI'S INLAND FLOOD COVERAGE APPLIED
| | |
| --- | --- |
| Damage to business personal property in the basement | $10,200 |
| Lost revenues due to business interruption | $5,700 |
| Total Damage: | $15,900 |
| Deductible | $500 |
| Full Limit Paid to Insured: | $15,000 |
LEARN MORE
Find out how our new Inland Flood Coverage fills a growing coverage gap and protects home-based business owners against serious losses that can come with a damaging flood. Visit our home business web site, then contact your RLI administrator today.
---
NEW ISO's Personal Auto Policy Changes
Big "I" Virtual University
Date: Tuesday, May 8
Time: 1:00 - 2:30 p.m. EST
Cost: $49 (includes live presentation, recording and written transcript)
Summary:
Insurance Services Office (ISO) filed 30 changes to its personal auto program to be effective September 1, 2018. Nine changes are being made to the base PAP form itself and 21 endorsements were either revised, removed or created. Exclusions previously requiring the attachment of three endorsements are now included in the base PAP. Additionally, this filing:
Introduces seven new optional endorsements;

Inserts a brand new, seemingly ridiculous exclusion into the base PAP;

Kills off five endorsements;

Revises 12 endorsements; and

Makes various changes to the policy form and endorsements.
You do not want to miss this overview of major additions. When looking for quick strikes of information on focused topics the VU's monthly Lightning Learning series that continues to focus on good business and goal setting for the month of April. Please send any questions to VU staff.
Registration:
---
LAST WEEK'S MOST CLICKED LINKS
Here are the top three items that got BIM agents clicking from our last edition... see what you missed!
---
BIG "I" MARKETS SALE OF THE WEEK
Congratulations to our agent in Congratulations to our agent in New Missouri on a
Small Commercial
sale of
$5,043
in premium!